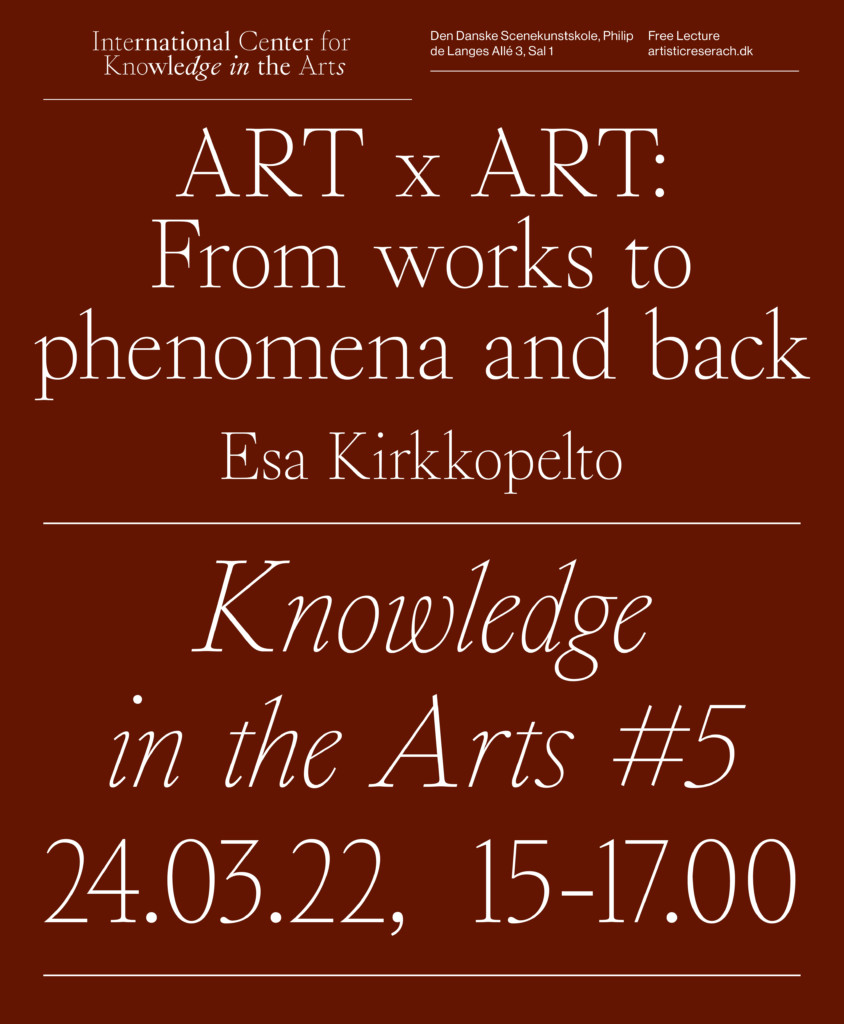 Lecture #5
Knowledge in the Arts #5: Esa Kirkkopelto
Date: 24.03.2022, 15.00-17.00 CET, The Danish National School of Performing Arts

Direct streaming link: https://youtu.be/7NM2-3A9oGY

We warmly invite you to the fifth Knowledge in the Arts event which this time will be with the artist, researcher and performer Esa Kirkkopelto. In his presentation , "ART x ART: From works to phenomena, and back", Kirkkopelto will discuss the object of artistic research in relation to artistic processes and transdisciplinary work, aiming at no less than a reformulation of how to think and work with phenomena, artistically.

The event takes place on location at The Danish National School of Performing Arts and will additionally be live-streamed through our YouTube channel.

Venue: Sal 1, Den Danske Scenekunstskole, Philip de Langes Allé 3.
Streaming on our Youtube channel: https://www.youtube.com/c/InternationalCenterforKnowledgeintheArts

ART x ART: From works to phenomena, and back
"In my previous outcomes on artistic research, I have underlined the significance of its institutionally transformative potential. In this presentation, my scope will be more ontological and epistemological. I will challenge the current disciplinary and methodological openness of the artistic research field, by formulating the question of its research object in a new way. As I will argue, the definition of that object is possible without compromising the specificity of artistic experience and practices. On the contrary, it requires that we learn to consider artistic processes more artistically. This potentiating of artistic experience will lead us to see and make the difference between what is "artistic" and what is "aesthetic". It aims at solving the dilemma between "applied" and "pure" art or "basic" artistic research, by indicating how it is possible to operate artistically, without being necessarily involved in the production of an artwork. Finally, it enables artis tresearchers to better recognize their role and significance in various trans- and interdisciplinary settings."


Esa Kirkkopelto
Esa Kirkkopelto (Born 1965) is philosopher, artist-researcher and performance artist. Currently, he works as a professor of artistic research at the Malmö Theatre Academy (Lund University). Previously, he worked at the University of the Arts Helsinki, first as a professor of artistic research (2007-2017), then as the head of the post-doc Centre for Artistic Research (CfAR, 2017–2018). He also holds the title of docent in Aesthetics at the University of Helsinki. He is the leader of a collective research project Actor´s Art in Modern Times on the psychophysical actor training (2008–2011), the initiator of the International Platform for Performer Training (since 2014), core-convener or the Performance Philosophy association and the founding member of the Other Spaces live art group (2004–). Having passed his PhD in philosophy at the University of Strasbourg (2003), he is the author of Le théâtre de l´expérience. Contributions à la théorie de la scène (PUF 2008) as well as of numerous articles on the philosophy of performance, aesthetics and politics. His research focuses on the deconstruction of the performing body both in theory and in practice. In 2020, he published a treatise (Logomimesis, Tutkijaliitto 2020), which gathers together 15 years of study and experimentation in the areas of contemporary performance, artistic research and performance philosophy.
About Knowledge in the Arts
In spring 2021, the International Center for Knowledge in the Arts, launched its lecture series, "Knowledge in the Arts". The focus is on transdisciplinary themes and current debates in Artistic Research, both within the Center institutions and in relation to artistic research's wider relevance in society. The lectures will mainly be given by artists with a research-oriented practice, but also by other voices, relevant to the knowledge of art. This series features speakers and topics that will be of interest across the center's institutions as well as for a wider public.
You can see examples of previous presentations in our Media Archive. https://artisticresearch.dk/medie-arkiv