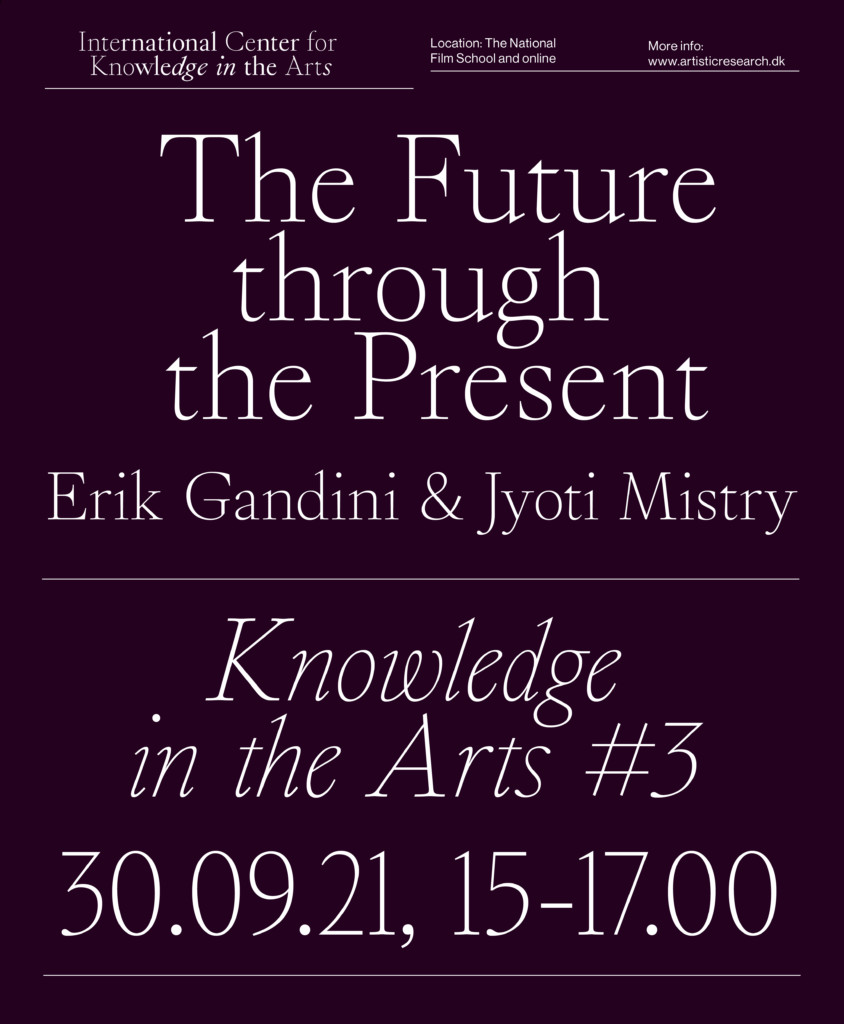 Lecture #3
We warmly invite you to the third event in our series Knowledge in the Arts, featuring the two artist-researchers and filmmakers Erik Gandini and Jyoti Mistry. Each will present their research through film practice and then focus on a collaborative project The Future through the Present that addresses the future of work.
When: 30 September 2021, 15.00-17.00 (3pm-5pm CEST)
Where: The National Film School of Denmark & streaming online at YouTube: https://youtu.be/9q99hD5nxnY
Register for the physical event by writing an e-mail to: info@artisticresearch.dk
Address: Den Danske Filmskole, Theodor Christensens Plads 1, 1437 København K
Mistry will introduce a general framework of research in and through film and outline how her practice is connected to aesthetic and ethical reconsiderations in the grammar of film. She will draw from her own films and recently completed field works.
Gandini's current creative documentary and artistic research project The Future through the Present, deals with the existential question of what we will do when we do not have to work. In contemporary public debates on work, technological perspectives imply a surplus of time, which overshadows the existential issue of the role of work in relation to the value of work. A changed view of work requires creativity and imagination that invites a revitalized approach to documentary film. Gandini's research is an interdisciplinary collaboration between creative documentary film and sociology based on insight that film processes can be inspired by theories but also, in reverse, produce new theories.
With a base in documentary film and through practice-based research methods, The Future through the Present is built on a research group consisting of Erik Gandini, professor of documentary film at Stockholm University of the Arts, Roland Paulsen, senior lecturer and associate professor of sociology at Lund University and Jyoti Mistry, professor of film at Valand Academy of Art & Design, University of Gothenburg.
About Erik Gandini
Erik Gandini was born and grew up in Italy and after relocating to Sweden in his youth, he has become one of the country's most renowned filmmakers. He has produced and directed a number of internationally acclaimed documentaries including Sacrificio (First Prize IDFA), Surplus (First Prize IDFA, Amsterdam Silver Wolf) and Videocracy which was voted best documentary film at the Toronto Film Festival by a critics poll conducted by Indie Wire. He also served as producer on Marcus Lindeen's The Raft, which won the CPH:DOX Award in 2018. Gandini's 2015 documentary feature The Swedish Theory of Love dug into the dysfunctional and dark sides of the supposedly perfectly functioning Scandinavian well-fare society. He is currently professor of documentary film at the Department of Film and Media of the Stockholm University of the Arts where he is also the principal investigator of the artistic research project The Future through the Present.
About Jyoti Mistry
Jyoti Mistry is Professor in Film at the Valand Academy of Art & Design, University of Gothenburg in Sweden. She works with film both as a mode of research and artistic practice. Mistry has made critically acclaimed films in multiple genres and her installation work draws from cinematic traditions but is often re-contextualized for galleries and museums that are outside of the linear cinematic experience. Her most recent work, Cause of Death (2020) deals with "the way in which images of women were marginalised historically in the archive or how they were depicted." Recent publications include "Mapping Artistic Research in Film" (International Journal Film and Media Arts, 2020) and "Decolonial Propositions" in collaboration with OnCurating (2021). Currently she is editor in chief of the PARSE, artistic research publishing platform.
About Knowledge in the Arts
In spring 2021, the International Center for Knowledge in the Arts, launched its new lecture series, Knowledge in the Arts. The focus is on transdisciplinary themes and current debates in Artistic Research, both within the Center institutions and in relation to artistic research's wider relevance in society. The lectures are mainly given by artists with a research-oriented practice, but also by other voices, relevant to the knowledge of art. This series features speakers and topics that will be of interest across the center's institutions as well as for a wider public.