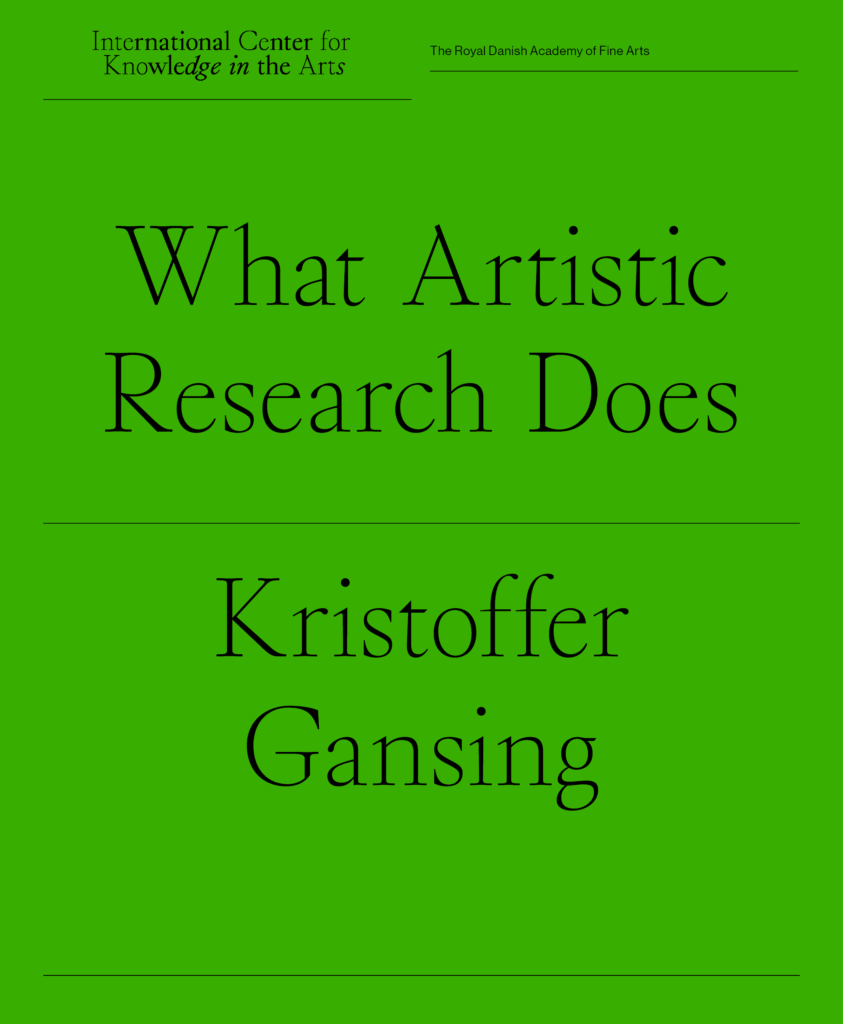 What Artistic Research Does: artikel af Kristoffer Gansing
NB: This text was commissioned in May 2020 by the hiring committee for the first professorship of The International Center for Knowledge in the Arts.
What Artistic Research Does – Transversal Knowledge for Critical Times
Art is one of the the key domains where the conditions of life in our current age, dubbed by scientists as the Anthropocene, are continuously interrogated. Following wide-ranging technological developments including digitalization, the great challenges of this time include environmental and most recently the pandemic crisis. Over the past two decades, artistic research has risen as a field that reconfigures and hybridizes how art intervenes and produces knowledge in the world, evolving in dialogue with non-art disciplines and settings where such global challenges play out. At the same time, artistic research is a formalization of art's knowledge as it tries to make research based art practices possible to evaluate according to more or less universal academic standards. Along with this formalization, there has been a lot of discussion about the whats, the whys and hows of artistic research. Much of the focus has been on what kind of knowledge it produces and what the adequate methodological frameworks are. In this short article, I want to shift the perspective on knowledge in artistic research to a discussion of what artistic research does, trying to synthesize and contextualize different approaches. This is rooted in an idea of artistic research's doing as both performative and transversal, meaning it is able to operate with and across different scientific, institutional and cultural contexts. Following this approach, I would like to look at the different levels at which artistic research is now active, asking:
– What does specific artistic research projects / artworks / processes do?
– What does artistic research do in the academy and in arts education?
– What does artistic research do to science and knowledge production at large?
– What does artistic research do in society?
My perspective is in other words based on the institutionalization of artistic research that has now taken place and how this influences the way that art academies, artists and society can best care for and further develop this particular form of knowledge production. Even if this article is too short for a full systematic account of each of the levels listed above, my ambition here is to outline starting points for each, concluding with a reflection on the possible ways forward and the overall social relevance of the field in our contemporary moment.
Art & Science and Beyond
Artistic research often plays out in a conscious relation to more established disciplines, for example by bringing an aesthetic sensibility or critical humanities perspectives into scientific domains where such are not usually present. A case in point is the practice of the Turkish-American artist Pinar Yoldas, and her project Ecosystem of Excess (2014-) which started with the speculative research question: "If life started today in our plastic debris filled oceans, what kinds of life forms would emerge out of this contemporary primordial ooze?". The result is a "speculative biology" that sculpts and maps out new lifeforms and sensory organs that infuses evolutionary biology with a poetic imagination. This artistic research brings art into science in a way that provokes new questions within a "hard" discipline and draws on the consequences of the Anthropocene age in which all human and non-human life is now enmeshed. Other artists bring scientific knowledge into more "soft" settings where they are unexpected, such as when the artist Trevor Paglen collaborated with the Kronos Quartet to create the live performance Sight Machine (2019). This stage production applies face-recognition technologies and algorithms analysing human emotions to a live string quartet, not to quantify a creative process into some techno-rational system of classification, but rather to enact the knowledge gaps in experience and performance between the human and the machine. As audience, we witness the instability of the algorithm trying to lock-down reality to a fixed framework, producing telling ambiguities and discrepancies along the way. These two examples are about exchanges between art and science but artistic research is also part of blurring such distinctions as when artists collaborate with various actors to create research platforms beyond established knowledge domains. The Feminist Health Care Research Group is a Berlin-based collective that have recently done archival research as well as interviewed key activists of the alternative health care movement as it existed in West Germany in the 1970's and 1980's. With a research practice that manifests itself through zine publications, workshops and public events, the group reveals hidden histories of radical care and instigates a discussion on the contemporary state of sickness and care within capitalist society. In such projects, it's not so much the relation between art and science that is at stake as the opening up of collaborative research spaces for new or lost forms of knowledge.
Art as research, Research as Art
Readers knowledgeable in artistic research might have already spotted that the above examples are described from the point of view of what they do as artistic research projects in relation to science and society at large rather than as formal research processes within the academic milieu. This is a conscious choice in order to demonstrate that artistic research is a since long living field that ultimately corresponds to the knowledge of art on a whole. It's my view that academies developing artistic research should build on their already existing rich bodies of research in the arts, meaning the research knowledge of artists themselves (cf. Cotter 2019). This does not need to happen in opposition to artistic research's institutionalization and artist PhD programmes but it is a useful critical reminder not to dismiss the multiplicity of knowledge forms in the arts. The philosopher Gilles Deleuze argued that that a filmmaker does not need the philosopher in order to "think" and have an idea in cinema (1987), predating later positions of art as a form of research through material, aesthetic and performative engagement (cf. Busch, 2011, 2016 ; Bolt, 2016, Henke & Mersch, 2020). In light of this, could we reconceptualize artistic research not in opposition but rather in extension and safeguarding of artistic forms of "thinking"? The question then becomes how to retain this doing of artistic research while further formalizing the reflection on artistic knowledge and the ways to convey this to a wider research community. There is a huge challenge and opportunity in synthesizing the different disciplinary conditions of artistic research into shared vocabularies, topics and resources. It's important in this process not to reduce the quality of specific forms of artistic inquiry and instead work with a flexible definition of the field. The synthesizing should rather take place by providing the resources for quality checks, methodological guidelines and feedback from an (ever-evolving) research community and contextualizing frameworks in the form of scientific and thematic cultural discussions. Formal PhD education in artistic research should try to adapt to such flexible and manifold structures, and work both inclusively and transversally with research-based perspectives across different education levels so that those students who eventually wish to move their careers into the PhD level gain access and insight into the possibilities for doing so.
Transversal Knowledge Assemblages
Particularly, in what in Denmark, Sweden and Norway has been called "artistic development" (KUV), the demand is usually for a documentation of the artistic process in the form of a written exposition, retroactively reflecting back on as well as presenting the creative process and outcomes. Not every such artistic research project can or even should need to address large-scale contemporary political, technological and social issues, as instead they can indeed also be about specific techniques and aspects of artistic practice. This is where documentation and dissemination through dissertations, journal articles and artistic research databases is key, as the impact of such research might not always be immediately visible but rather contributing to the body of knowledge in institutions over time. Apart from actually producing a quantifiable body of artistic research knowledge, artist researchers have further taken the very forms of this demand of reflection and documentation and treated them as performative elements of their artistic research projects. This is a significant development of artistic research because it means it is also critically engaging with the scientific forms that knowledge is ideally supposed to manifest itself through. In this way, artist researchers are incorporating the "research" part into their skill sets, turning it into a further form of reflective aesthetic "thinking" able to artistically engage with some of the most critical questions of contemporary society and culture today. In this process it is important for institutions to stay open-ended about the research outcomes at the same time as it confidently presents and contextualizes them through symposia, publications and hybrid formats. However diverse the topics and results may be, a common aspect of artistic research is that it produces forms of knowledge that work across but is not entirely reducible to purely aesthetic or scientific speculation. In this sense, artistic research is a transversal knowledge assemblage that performatively explores and senses possible ways of knowing and doing.
Listen to the Science
It is tempting to think about artistic research as a luxury occupation in times of pandemic crisis and a possible future of scarce human, environmental and economic resources. What has become evident in the current moment however is that science is now more in demand than ever. This demand correlates to what is already happening in relation to climate change, where the calls from younger generations "to listen to the science" has become louder by the day. Just as with climate change, the Corona crisis has also amplified the "post-truth" related conflicts between science, media, politics and culture. Thus, the current crisis is also a demonstration of the always negotiated and performative dimension of knowledge and how this is being used and abused across different sectors of society. Artistic researchers, because of their advanced aesthetic knowledge, are particularly well equipped to respond to this rapidly developing world where science and scientific knowledge is distributed throughout all spheres of life. Thus, rather than a luxury item, artistic research is an as vital domain of research as any other, and even more so in critical times, as artists engage in practices of de- and acceleration, care, solidarity, re-imagining modes of living as well as create new aesthetic means of expressing human subjectivity, collectivity and even non-human registers of existence.
In a situation of crisis, knowledge itself is in crisis as continuously performed truth but this only highlights artistic research's importance as precisely a discipline that does not claim objectivity from the get go but that rather intervenes, enacts and performs knowledge in singular settings ranging from the stage, exhibition and public space, printed matter and the digital. Artistic research then does something that is valuable to society at large: it performs transversal knowledge assemblages for further reflection on where we want to take society and its different domains of knowing next. In this sense, it provides the means for truly listening to the science.
References & Artworks Cited
Bolt, Barbara. "Artistic Research. A Performative Paradigm?" Parse Journal Issue 3 – Summer 2016.
Busch, Kathrin (Ed.). Anderes Wissen: Kunstformen der Theorie, Merz Akademie & Wilhelm Fink Verlag: 2016.
Cotter, Lucy (Ed.). Reclaiming Artistic Research, Hatje Cantz: 2019.
Deleuze, Gilles. "Having an Idea in Cinema. On the Cinema of Straub-Huillet." in Deleuze & Guattari: New Mappings in Politics, Philosophy, and Culture, eds. E. Kaufman and K.J. Heller, University of Minnesota Press: 1998. Transl. Eleanor Kaufman of the lecture "Qu'est-ce que l'acte de création?", Fondation Femis Cours 17 March, 1987.
Feminist Health Care Research Group
http://www.feministische-recherchegruppe.org/
Henke, Silvia and Dieter Mersch et al. Manifesto of Artistic Research: A Defense Against its Advocates, Diaphanes: 2020. Kronos Quartet & Paglen, Trevor. Sight Machine, 2018.
See among others https://www.barbican.org.uk/kronos-quartet-trevor-paglen-sight-machine
Yoldas, Pinar. Ecosystem of Excess, 2014. NB: An ongoing project initially produced through the transmediale Vilém Flusser Residency for Artistic Research. See https://www.pinaryoldas.info/WORK/Ecosystem-of-Excess-2014 and
https://transmediale.de/content/vil-m-flusser-residency-for-artistic-research-2013-jury-statement
As well as the publication An Ecosystem of Excess published by Argobooks and Ernst Schering Foundation, 2014.