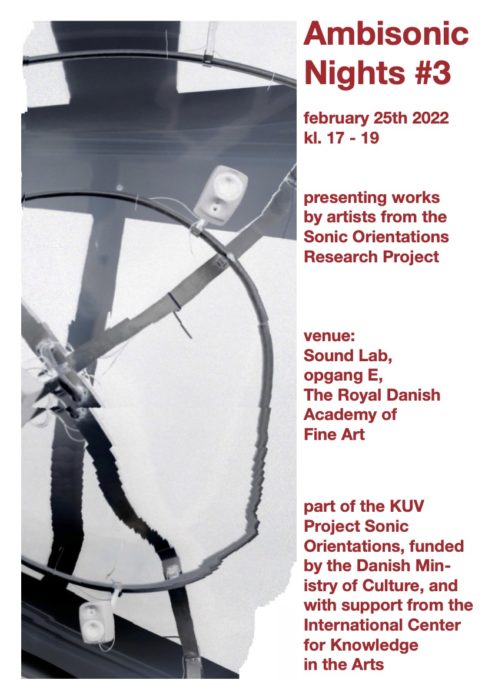 AMBISONIC NIGHTS #3
AMBISONIC NIGHTS #3, February 25th, kl 17-19 @ the Sound Lab
The Royal Danish Academy of Fine Arts, Kongens Nytorv 1, Entrance E, at the bottom of the Italian Stairs
By Jenny Gräf Sheppard, Stephen McEvoy
This is an open-house event featuring the newly installed Ambisonics chamber at the Laboratory for Sound.
The Ambisonics chamber is a space for experiencing 3D sound. Audience members are invited to experience excerpts from spatial sound works created by the Ambisonics Research group.
The Sonic Orientations project deals with Ambisonics and its implications for the listening subject in sound, VR and other Media Art formats. By exploring this immersive sound technology and associated practices from a theoretical perspective, the aim is to sound out new perspectives on subjectivity, agency and narrative. The project activity includes Sonic Orientations Ambisonics Research (SOAR) group activity, teaching, public talks and exhibitions that support international dialogue and establish the space as a site for research on immersive sound in Media Art.
The Ambisonics format evades our conventional notions of space, physics and directionality. It has the potential to upend subject-object relations, offering a completely new way of entering into time-based narrative in Media. The technology and physics that are behind Ambisonics subverts conventional notions of a sound source, in that the multiple speakers involved interact in ways, and in that interaction, the illusion of spatial sound is created. Therefore it is a dynamic between sound fields that produces a sense of sound, directionality, of sounds of space. For this reason, the study of Ambisonics is a ripe area for exploring themes of New Materialist intra-action and entangled agencies.
The project Sonic Orientations is funded through a KUV grant for artistic research from the Danish Ministry of Culture.