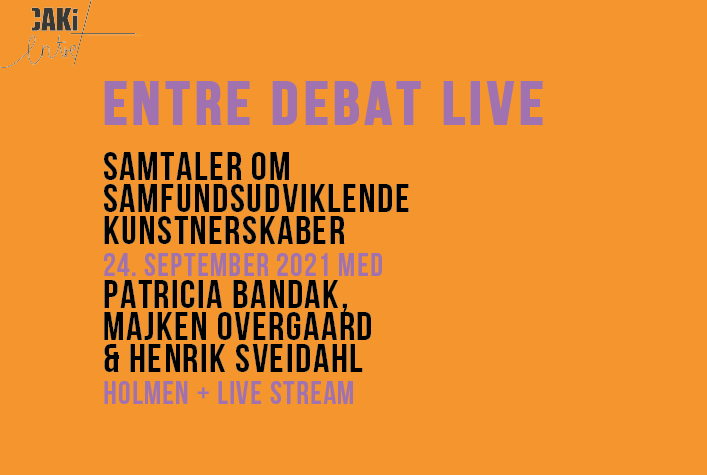 ENTRE DEBAT LIVE
At ENTRE DEBAT LIVE, we talk about external relations to the artistic and pedagogical practices and the artistic research that take place in the art schools. The event will be held in Danish. 
At this second ENTRE DEBAT LIVE, we are going to talk about perspectives on developing artistries in relation to the surrounding society – what are they and what can they do? We have invited film director Patricia Bbaale Bandak, head of CATCH Majken Overgaard and rector of the Rhythmic Music Conservatory Henrik Sveidahl to talk about the theme 'Society-developing artistries'. The conversation is moderated by Pernille Skov from CAKI.
About ENTER DEBATE LIVE
As a teacher, researcher or student at an art school, we must ask ourselves what quality and relevance is in the artistic practice and company, and how this stands in relation to the outside world.
To support and develop these reflections, we have invited a number of interlocutors who are in various ways in contact with the artistic educations and the cultural sector more broadly, to discuss the issue of external relations in the art and the artistic enterprise.
ENTRE DEBATE LIVE is part of the ENTRE program, which supports the development of entrepreneurship as a field of knowledge in higher artistic education.