Program Dossier
Enhanced Practice Winter 2021 – Spring 2022
What
Enhanced Practice is an artist development and mentorship programme, which provides recently graduated artists with the opportunity to develop their practice in research-based, collaborative and socially committed directions.

It is a unique program in its transdisciplinary scope, with participant artists from music, film, performing arts and visual arts. Combining individual mentorship with a series of joint workshops and seminars, the program produces insights into, and supports the sustainable development of working methods for artists who increasingly find themselves in a hybrid, inter- or postdisciplinary cultural landscape. It is a landscape, where boundaries between current genres and disciplines are increasingly fluid, and where art and artists are required to respond to current societal challenges.
For this, its first iteration, the program was structured around the theme of Transformation & Interdependence, an invitation to identify and create interdependent connections – both within a participant's own practice and in relation to much-needed and interwoven progressive changes in culture, ecology, technology and the environment.
Guest lecturers for the joint seminars and workshops in Winter 2021 and Spring 2022:
Hannah Dehlia, Lisa Nyberg, Pernille Skov, Georg Russegger, Victoria Ivanova, Ida Bencke, Zeenath Hasan, Vytautas Michelkevicius, Esa Kirkkopelto.

The program was developed and coordinated by Prof. Kristoffer Gansing & Annemette Friis.

For Whom
The program is open to artists who have graduated from one of the seven Higher Artistic Education Institutions under the Ministry of Culture in Denmark, within the two most recent years. For its first run, 2021-22, ten participants were allocated an individual mentor from a cultural institution and/or context relevant to their practice. Applicants were requested to submit a first draft of a 'program statement', describing the intention and direction of their artistic development as well as relating to the overall theme Transformation & Interdependence. The first batch of participants were selected by a jury consisting of Bjarke Svendsen (ALICE), Liv Helm (Husets Teater), Pernille Skov (CAKI) and Kristoffer Gansing (International Center for Knowledge in the Arts).
The first participants and their mentors were:
Ditte Tygesen & Mikkel Rostrup (DUO), Mentor: Miriam Frandsen
Josefine Opsahl, Mentor: Irene Campolmi
Katrine Grarup Elbo, Mentor: Jeanette Ehlers, Marie Højlund
Lara Vejrup Ostan, Mentor: Cecilie Ullerup Schmidt
Laurits Malthe Gulløv, Mentor: Marie Kølbæk Iversen
Laurits Jongejan, Mentor: Rune Søchting
Nanna Katrine Hansen, Mentor: Tinne Zenner, Susan Schuppli
Liv Vester Larsen, Mentor: Laboratoriet for Æstetik og Økologi (Ida Bencke & Dea Antonsen)
Marina Dubia, Mentor: Amilcar Packer
Morten Poulsen, Mentor: Hannah Hull, Salome Voegelin
For further information on the participants you can read their bios here.

To apply for Enhanced Practice, see information here.
Outcomes
Within the framework of mentoring, (peer)-exchange and a joint program over the course of 9 months, the selected participants developed and enhanced a 'program statement' for their practice – a direction and method of their artistic work going forward. The statement's focus is on artistic development and methodology with an open-ended outcome. The participants approached this task through work-sketches, text, sound, video and performance based on their current practices, and these were presented in a common forum as well as on this web site.
Overall the program:

– Contributed to the artistic development from a trans- and/or post- disciplinary perspective.
– Strengthened the participating artists in developing a sustainable and collaborative practice.
– Increased the participants' knowledge about artistic development and research methodologies.
– Provided young artists tools and perspectives to navigate their possible careers in a complex post-pandemic cultural landscape.
– Expanded the interfaces between art and other fields.

Explore the program statements by the participants of Enhanced Practice 2021-22 below.
Participants' Program Statements
Katrine Grarup Elbo
"Over the course of the spring, I had to consider how I would present my program statement and I often ended up with a version that needed a lot of words to adequately explain how my artistic practice unfolds. I also experience this need for many words when I meet new people who ask what I do. More often than not, I notice that my interlocutor slowly becomes remote in look, which is quite understandable to a certain extent. The many words, especially about a practice that may be far from one's own, usually require a rather concentrated listening and a certain engagement of the imagination.
On February 10, 2022, I curated a concert entirely of my own work in a disused car repair shop in the Northwest. This evening the formats of the works alternated between everything from classical concert to installation to performance and free contact improvisation, and the focus alternated between solo and collective performances. In other words, here I presented the whole range that makes up my creative work these years. No concert hall could provide a satisfactory and adequate setting for a presentation in the format I wanted to facilitate, nor did I want a purely museum like experience. So I moved into the old workshop and decided to let the setting of the building define the course of the evening, including the audience's movement patterns and positioning in relation to the works.
As part of my programme statement, I have chosen to video document the concert – not just 1:1 documentaristically, but in a format where, as a listener to a presentation, one can form both an impression of the various formats of the works, their expressions and effects and – at least I hope – their sensuality. All these things are so infinitely difficult to get across when you are 'just' using words and possibly images to explain your practice. The living art that exists in time and space requires, at the very least, living formats in order to be adequately communicated.
Lara Vejrup Ostan
Lara Vejrup Ostan is a freelance dancer and choreographer. In Enhanced Practice she experimented with how dance and embodiment practices might hold and produce language. Her mentors were Cecilie Ullerup Schmidt and Quim Bigas.

As part of her program statement, Lara produced the book HIKE:
What does it mean to practice dancing in the precarious conditions (lack of space, time, resources) of freelance contemporary dance? In this book, I borrow hiking and let them (the book and hiking) temporarily hold the space-time for dance. I explore and question how dancing, entangled with embodiment practices, holds, unfolds and carries imaginaries. It is a contemplation on perceptions of having a body, space, relation and thought through an expanded understanding of touch. The book is composed of texts written during different artistic processes and workshops. They are notes on (group) confabulations and dialogues, appearing in relations through practicing dancing.
Laurits Gulløv
Laurits Gulløv is a visual artist who graduated from the School of Sculpture at the Royal Danish Academy of Fine Arts in 2021. For Enhanced Practice he has been working on several projects all relating to the same overall theme: Humanity's varied attempts to establish order in a world that appears opaque and tumultuous.

In Gulløv's production, one can often find attempts to create meaningful connections between otherwise detached elements, here living together across scale and levels of abstraction. In the video, you can hear him elaborate on his thoughts working with his recent exhibition Tools to Line the Curved.

The themes discussed in the video, reoccur in a podcast conversation with fellow Enhanced Practice participants Lara Vejrup Ostan and Morten Poulsen (See below).

At Enhanced Practice Gulløv's mentor was visual artist Marie Kølbæk Iversen.
Liv Vester Larsen
Liv Vester Larsen is a violinist, vocalist, composer and podcast producer who investigates the question "Can you create and be creative without access to Nature?" in her hybrid performance project called "Creative – without Nature?".
What happens to us when we let go of control in relation to our life situation – Are we getting closer to nature creatively?
For Enhanced Practice, she is investigating processes of the relationship between a vibrant work life and becoming a mother. Has the development of giving birth changed her way of being creative and has it changed her relationship with nature as a creative bearing element? She has investigated the process of composing music just before and after giving birth.
In her mentoring process with Dea Antonsen and Ida Bencke from the Laboratory of Aesthetics and Ecology, Liv has, among other things, investigated what nature and sustainability contains.
In a video produced by Rine Rodin, Dea, Ida and Liv discuss the concept of nature and what it means for us humans to be natural or unnatural.
(Link coming soon)
In a podcast produced by Jan Høgh Stricker for Enhanced Practice, Liv discusses with Marina Dubia about the role of art in the climate debate, whether future art should be "Art for the sake of art" or whether it should take action in the world situation. See link under Podcast below.

Artist website
Watch the the video on YouTube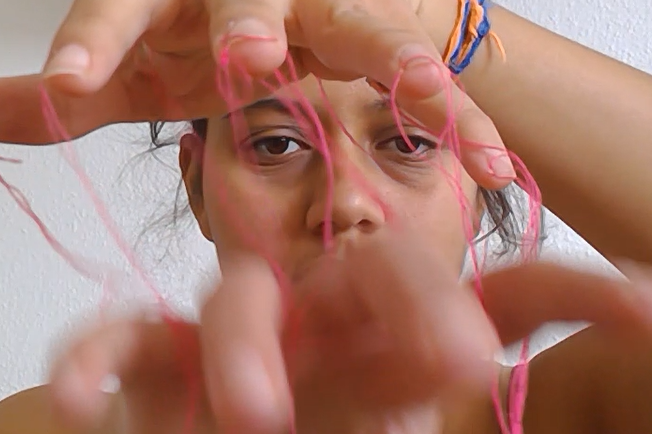 Marina Dubia
Marina Dubia (BR/DK) works with words & flesh; throughout Enhanced Practice she took internships in Barcelona (with artist and choreographer Julián Pacomio) and Berlin (with Paz Guevara at Archive Books); and visited her home country for the first time in three years – experiences accompanied and embraced by her mentor, artist and philosopher Amilcar Packer (CHI/BR). Their conversations emphasized the intertwining of life, art and desire; resisting or playing with negative forces to find the space for vitality, and sustaining the thickness of time against the current paradigm of projection, fragmentation and immediate reaction.
In "Notes for an enhanced vitality; May 2022", Marina explores her ambivalence towards art as a professionalized practice and highlights moments of her trajectory that resonate with a mission of opening up zones of connection and exchange against standardized life. The images were shot in collaboration with Katja Crevar. In addition, she has recorded a podcast on nature and sustainability with Liv Vester Larsen (See below uner Podcast).

Instagram: @pessoateimosa

dubia.page
House of Ears from Morten Poulsen on Vimeo.
Morten Poulsen
Is it a sound? Is it a rhythm? Is it a texture? Is it a word? Is it a context? Is it me? I work with listening as an intangible, intersubjective and transformative activity that has a potential to form the listener. I explore the ways in which we are embedded in socio-political structures, specifically focusing on gender, power relations and the environment, and the ways in which they intersect. Through creating and caring for spaces and situations where listening takes place, I critique conditions and provide opportunities for the listener to become aware of themselves in the soundscape.

– Artist Statement 2022, Morten Poulsen
As part of Enhanced Practice, sound artist Morten Poulsen carried out a short practice-based artistic research project which explored listening and being heard. He organised participatory activities to critically investigate different understandings of listening, its uses, misuses and potentialities in relation to social change in the face of contemporary challenges.
His mentors were Hannah Hull and Salomé Voegelin.
In his text To Hear and Being Heard, he outlines the outcomes of this project.
Nanna Katrine Hansen
During the program I have had mentorship conversations with artist and filmmaker Tinne Zenner and artist and researcher Susan Schuppli. I have during the process researched and developed questions in my latest work Europe's Eyes on the Skin of the Earth, which is a film installation that was exhibited at Charlottenborg Kunsthal as part of my graduation in 2021. Based on the satellite view as a military gaze from above, the work examines complex economic and political networks that constitute the fortification of the European Union's external borders. Inspired by artist Susan Schuppli's concept material witness, I use the satellite as a kind of material dual agent and have an interest in what the satellites are made of and how its visuality is used.
The technology in satellites dissects spatiality into stacks of horizontal layers, whereby materials such as air, water, earth and bodies are divided on a vertical axis. The earth's surface, airspace and subsoil are divided into separate layers. Professor of visual and spatial cultures at Goldsmith University in London, Eyal Weizman, calls it vertical sovereignty and argues that different strata of community are divided from each other on a y-axis, multiplying sites of conflict and violence. Visual technology creates new interfaces and affects how conflicts unfold. Based on Weizman's theoretical proposals, I want to aesthetically explore how it is possible to work with an idea of verticality in a film medium that is traditionally two-dimensional. What aesthetic forms could it take? A central image technology in satellite remote sensing is hyperspectral images that can detect more wavelengths than the human eye. The technology is used, among other things, to detect minerals in subsoils and movements in bodies across politically determined boundaries. The work will be an aesthetic study based on video and audio of a number of locations related to the development and use of the satellite constellation Pleiades Neo by private space and military company Airbus. In line with Schuppli, I want to both look at those images and through those images. With technologies that capture more than the human sensory apparatus, I will examine the different layers of materials. This will happen with microphones that hear more than the human ear and various forms of imaging technologies that see more than the human eye.
Coming from working with film and video, through the program of Enhanced Practice I wanted to think about the relation between the ground and image-making technologies. About the resources and minerals that are transformed and used in bodies of image production technologies. Taking inspiration from the scholars Martin Arboleda and Godofredo Peirera, I want to think of extraction as a complex assemblage of different components composed through supply chains. Both Martin Aboleda and Godofredo Peirera make central the connection between technology of sensing and imperial projects of extractivism. Technological innovations such as remote sensing sets off new cycles of accumulation – thereby expanding resource frontiers into new geographies (Arboleda 2020: 42). Here, the underground is a central frontier for accumulation. At the same time, these new technologies require increased resources in order to be produced. It points to a circular movement of increased accumulation driven by technological innovation. More concretely, I am interested in looking at extractivism through an infra-infrastructure where a specific material comes to be formed and is transformed. I want to think through an infra-structural approach to the extraction of the material Silicon Carbide used in the space lens of the satellite Pleiades Neo and one of the relevant extraction sites is in northern Norway at the mine in Tana located in Sapmí territory. Rather than forming a direct supply line, this amongst other locations form plots in a complex network of suppliers.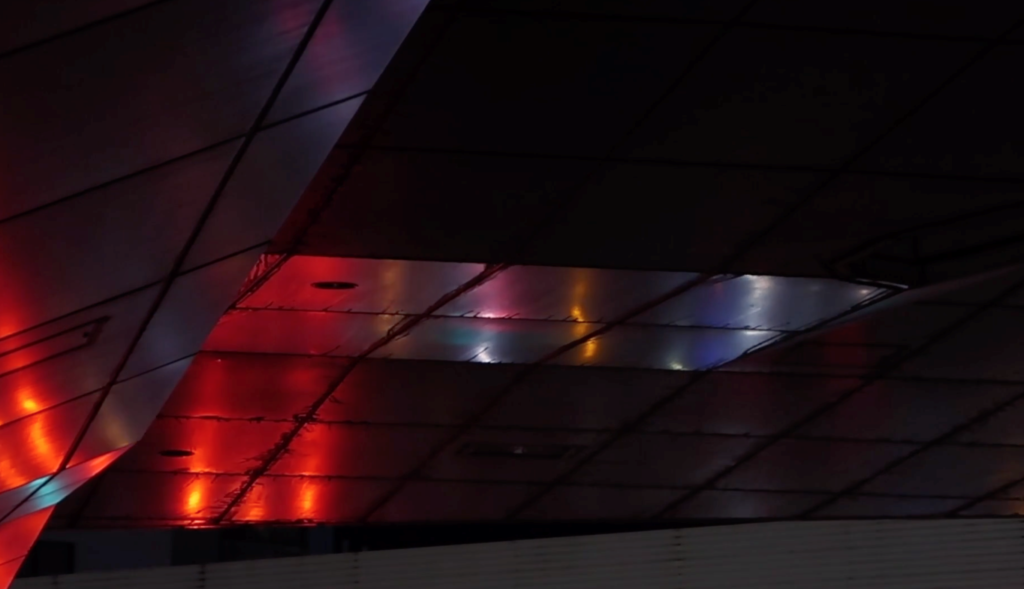 Laurits Jongejan
As a composer and sound artist my work explores the human relation to an ubiquitous technology in our current reality. My practice especially revolves around thematic figures, related to the question of how we can create intimacy and meaning by the application of technology.

My work tends to present surreal marooned technologies in scenes of human absence. Machinery that reacts to the human experience both physically and intersubjectively – The keyboard laid out to the human hand, as a shadow of its human interaction, The disembodied voice of a machine that neither knows what a voice is nor understands language – The emotional connection we humans are able to form with a machine – The way we express our emotions through technology – The experience of a familiarity with a singlepurpose machinery lost in time. Working with themes of the foreign body, the furniture, the industrial product and the sacramental object I try to tap into and utilise everyday experiences with surrounding technologies but infuse it with performativity and otherworldliness.

Coming from a background in electronic music, I have explored multiple central figures:

Various theatrical practices with a particular emphasis on the situated experience, often with reference to the ritual as a possible artistic figure for expression.

Another prominent figure in my work is artificial voice. The work particularly explores a tension in the idea of the machine as being something that simulates human behaviour and how we as humans, by inquiring this mirroring of ourselves in our surrounding technologies, arrives to a point of imitating our own technological apparatuses.

The examinations of thematic figures, particularly through an artistic research-based approach that both explores the potential of collective processes,
and involves research into phenomena found in various cultural practices. The work is unfolded in a study of technology and the role of the computer in relation to making forms of expression both algorithmic music, and different techniques of manipulating artificial voices.
A Shrine of Sacred Fear (related artwork)

Program Statement PDF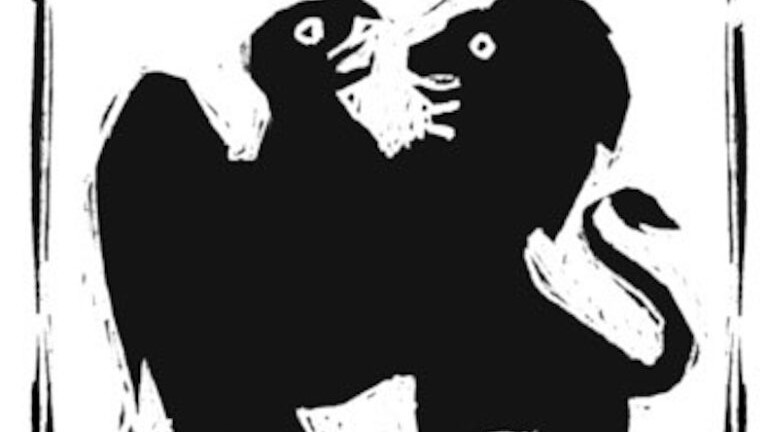 GRIF (Ditte Marie Walter Tygesen & Mikkel Sebastian Rostrup)
GRIF is a Copenhagen based scenographer duo. The mission of GRIF is to expand artistic approaches, methods and forms of collaboration in the field of scenography.

GRIF investigates known and yet-to-be-known ways in which a scenographer enters a dialogue and develops artistic material in performing arts, both in the relationship between scenographer-to-scenographer as well as scenographer-to-theater.

GRIF is formed by Scenographer and costume designer Ditte Marie Walter Tygesen & Scenographer and architect Mikkel Sebastian Rostrup. During Enhanced Practice, their mentor has been Miriam Frandsen.

STATEMENT

GRIF is a mission: To break away from and challenge the expected way of working as a set designer.

GRIF is critical of the current normative way of working as a set designer at the institutional theaters in Denmark.

In the encounter with the Danish theater field, GRIF experiences a lack of reflection on expectations for the set designer's work.

GRIF investigates alternative approaches, methods and forms of collaboration in the field of scenography.

GRIF attacks and expands known ways in which a scenographer enters a dialogue and develops material in performing arts, both in the relationship between scenographer-to-scenographer, as well as scenographer-to-theater.

GRIF experiences that Danish theater is locked in expectations by the work of the set designer. The institutionalized theater focuses on efficiency and feasibility, which does not require openness to explore new scenographic working methods. Thus, there is no time, profit and confidence to recognize that newly educated scenographers can contribute new knowledge and new working methods that can revolutionize the theater. Lack of time breeds distrust of the set designer's contribution and leaves no room for common doubt and intuition in the process.
GRIF sees opportunities for new forms of work in: The way the scenographer submits their material to the theater, the scenographer's employment date and participation, collaborating two scenographers on a single performance, expanding the collaboration between scenographer and builder, propmaker, painter or tailor.
GRIF believes that the artistic struggle lies in the study of new working methods. The product of this research is not the result of the performance, but the development of new methods and knowledge sharing. Side by side with their artistic practice, GRIF will reflect, document and discuss. GRIF's goal is to make the collected knowledge available and share it with the Danish Scenographic Association.
Podcast
About the Podcast
This podcast series consists of edited conversations between two or more of the participating artists evolving around some of the main subjects of their own practices as well as relating to the overall theme of the program, Transformation & Interdependence, which broadly addresses the challenges of art, society and culture in times of climate and pandemic emergency.
These podcast episodes are supposed to give a glimpse into the research-based artistic practices of the newly educated visual artists, musicians, performers and filmmakers of the Danish art schools. The conversation style is casual, abrupt and improvised, which is also reflected in the editing style of the podcast.
The podcast is edited and produced by Jan Høgh Stricker (Event coordinator at Rhythmic Music Conservatory).
All copyrighted music and sound used in these podcast episodes is licensed under Rhythmic Music Conservatory's agreement with KODA and IFPI.
Episode 1: What is nature, what is natural?
'What is listening, what is language?' is an edited conversation between the artist Morten Poulsen, Lara Ostan Vejrup and Laurits Malthe Gulløv, all participants in Enhanced Practice.
Morten, Lara and Laurits talks about urgency, sustainability, listening and the relationship between art and language.
They begin by introducing themselves and what they have been working on during the Enhanced Practice program.
The sound bites used in this episode are of different kinds – the recordings used now and again are by Morten Poulsen recorded as part of his project House of Ears, and all the archival sound material and snippest of music that occurs is added by Jan Høgh Stricker, who have edited and produced this podcast.
The conversation took place in Morten Poulsens exhibition and project space House of Ears in Vesterbro, Copenhagen.
Episode 2: What is listening, what is language?
'What is nature, what is natural?' is an edited conversation between the artist Marina Dubia and the musician composer Liv Vester Larsen, both participants in Enhanced Practice.
Marina and Liv talks about environmental responsibility, what is nature, art and how it all relates.
They begin by introducing themselves followed by a digressional reflection on where they were and what inspired them five years ago, which was either just before they applied or during their studies at respectively the Royal Danish Academy of Fine Arts in Copenhagen and The Academy of Music and Dramatic Arts, Southern Denmark. So before becoming the artists they are today.
The sound bites used in this episode are of different kinds – the field recordings used now and again are by the artist Nanna Katrine Hansen who has also been a participant in the Enhanced Practice program, the music is by Liv Vester Larsen and all the archival sound material that occurs is added by Jan Høgh Stricker, who have edited and produced this podcast.
This conversation took place via a zoom call with the beautiful disturbances that comes along with that – and you will for example be able to hear Liv breastfeeding her four-week-old child here and there. A shout out to her for taking part in the conversation nonetheless.
About
The International Center for Knowledge in the Arts
The program is organized by the cross-institutional International Center for Knowledge in the Arts which is a joint knowledge centre for the seven Danish institutions of artistic higher education who operate under Ministry of Culture Denmark, and is physically based at the Royal Danish Academy of Fine Arts. The work of the Center is focused on Artistic Research, which is a key element of the schools' knowledge base, and which enables the professional artistic staff to explore new ways of knowledge building on the basis of artistic practice.

Enhanced Practice is funded by the Growth Plan for creative professions and is part of the framework funding of the art schools (2019-2022). The project extends over a two-year period from 2021 to 2023. The programme was devised, and is organised and run by Professor Kristoffer Gansing and the Coordinator, (in 2021-22: Annemette Friis).


The Higher Artistic Educations
The Ministry of Culture's higher education institutions are art and cultural institutions that form a framework for the creation of works of art, artistic and pedagogical research, and not least various forms of dissemination activities in the form of concerts, performances, exhibitions, exhibitions, etc. Therefore, the educational institutions also play an important role in the arts and cultural life at both local, regional and national level.

The seven institutions of artistic education that operate under the aegis of Ministry of Culture Denmark are:
The National Film School of Denmark, The Danish National School of Performing Arts, The Royal Danish Academy of Fine Arts, Schools of Visual Arts, The Royal Danish Academy of Music, The Rhythmic Music Conservatory, The Royal Academy of Music Aarhus/Aalborg, The Danish National Academy of Music