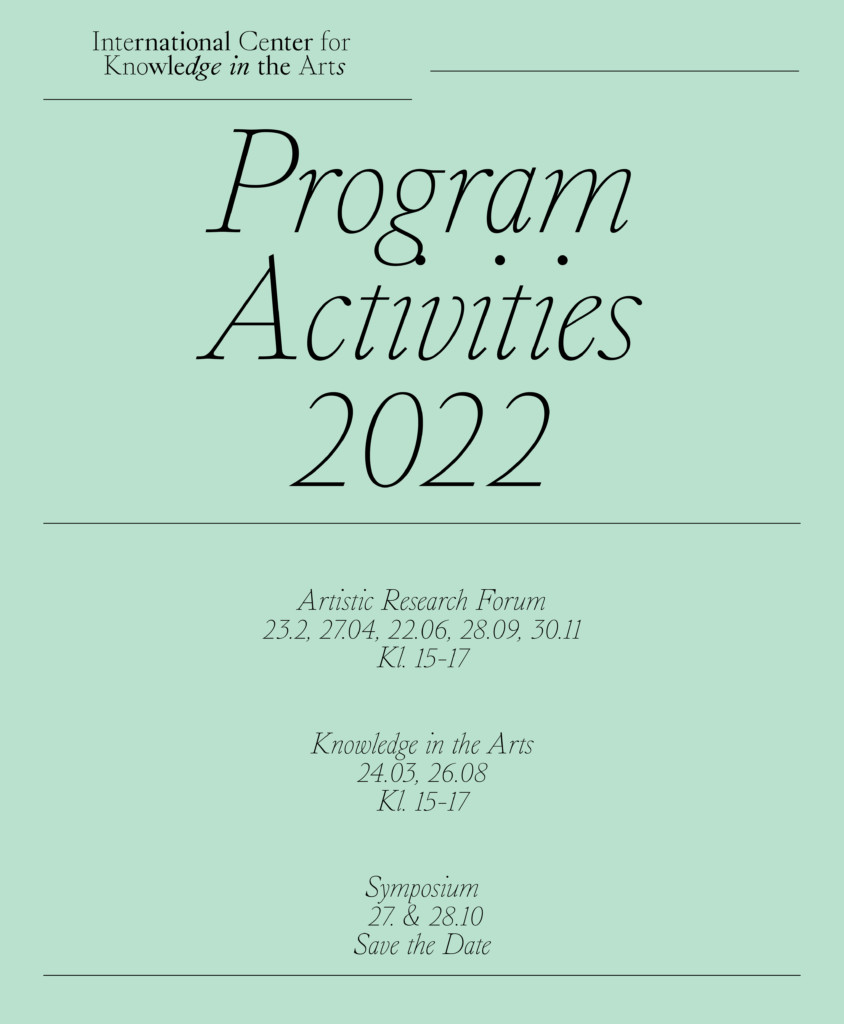 Program Activities 2022
Knowledge in the Arts, Public Lectures
24.03 & 26.08 15-17, live on the institutionerne and online.
Knowledge in the Arts is a lecture series where the focus is on transdisciplinary themes and current debates in Artistic Research, both within the Center institutions and in relation to artistic research's wider relevance in society. The lectures is mainly given by artists with a research-oriented practice, but also by other voices, relevant to the knowledge of arts. The events take place on location and are live-streamed and archived on the center's web-page. This series features speakers and topics, that will be of interest across the center's institutions as well as for a wider public.
NEXT LECTURE: 24.03 Esa Kirkkopelto
Esa Kirkkopelto is a performer, philosopher and an artistic-researcher. He is currently Professor at Malmö Theatre Academy/Lunds University. Read more about him here.
The Lecture is public, will be streamed online and will take place at the Danish School of Performing Arts, Philip de Langes Allé 3, 1435, Kbh K. Sal 1, 15-17.00 CET.
Artistic Research Forum
23.02, 27.04 & 22.06, 15-17
The Artistic Research Forum is a bi-monthly event featuring presentations of and feedback on artistic research projects from practitioners at the Center's member institutions. The goal is to work across all the institutions and create a transdisciplinary forum for constructive discussion and support of ongoing as well as completed projects. Each forum will feature two presentations, followed by introductory comments and questions from a respondent with expertise in, or relevant related knowledge of, the given field. A further respondent will have the possibility to contribute before the discussion is open to all participants. The conversation is informal and non-confrontational with the sharing of knowledge as its main purpose.
The Artistic Research Forum is primarily for employees and students of the Danish Institutions of Higher Arts Education and are announced internally. You can contact the center for further program and participation details, also if you are an external researcher wishing to attend.
23.02: Open meeting & Charlotte Sprogøe (BKS), Respondent: Rasmus Ölme (DDSKS)
27.04: Laura Navndrup Black (DDSKS) & Søren Kjærgaard (RMC), Respondents: Anne Gry Haugeland (DKDM), Sanne Krogh Groth (Lund University)
22.06: Niels Rønsholdt (DJM) & Jeppe Lawaetz (The Danish National Film School).
Symposium 2022 Save the Date:
27.10 & 28.10