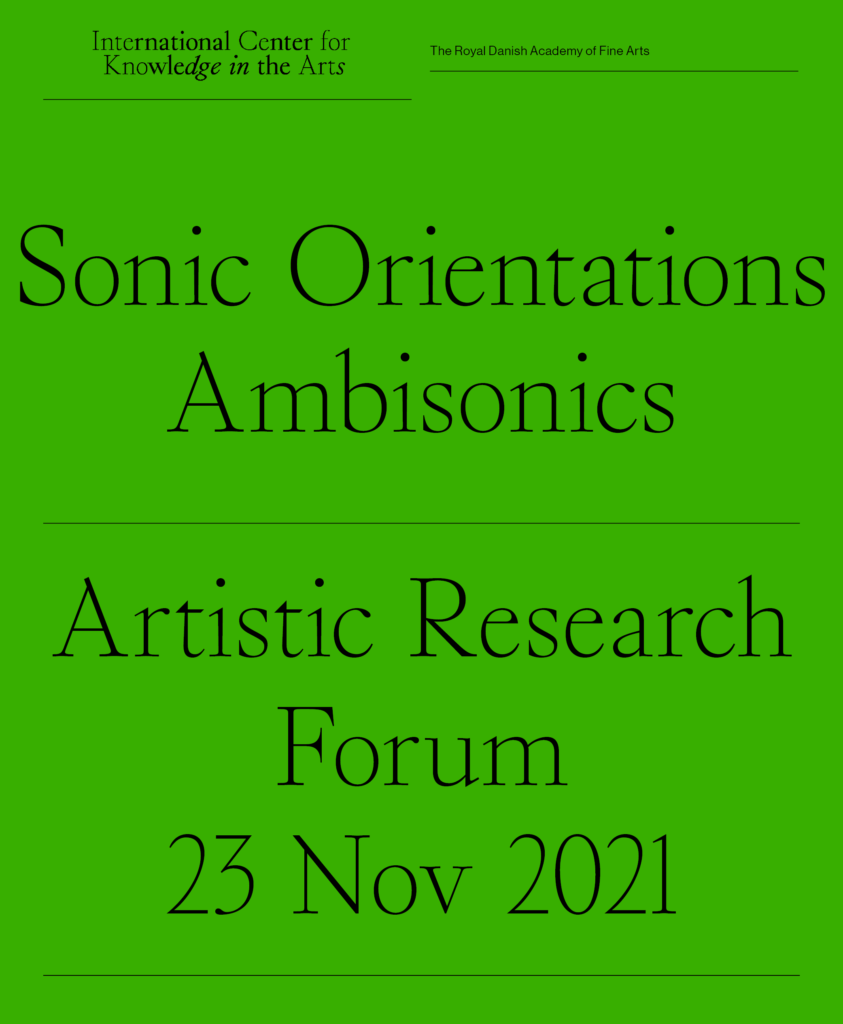 Artistic Research Forum

When: 23 Nov, 2021, 15.30 – 17.15.

With: Jenny Gräf Sheppard, Stephen McEvoy and Victoria Keddie (Schools of Visual Arts)
Respondents: Melisa Van Drie (University of Copenhagen, IKK), Anita Jóri (Berlin University of the Arts)
Participation: Hybrid Event on location at the Schools of Visual Arts and on Zoom. Limited seating available. Please register for physical participation by writing to info@artisticresearch.dk
On location: The room is called Den Gule Risalit (to the left in the entrance to the academy from Kongens Nytorv), Kongens Nytorv 1.
Zoom: the Artistic Research Forum is primarily for staff and students at the Danish Higher Art Education Institutions (which have set up the center) and they will receive the link through invitations or their Intranet. Everyone else who are interested are also welcome to join.
In that case, please write to info@artisticresearch.dk for a Zoom-link.
Sonic Orientations Ambisonics Research
For this Artistic Research Forum, we focus on Jenny Graf Sheppard's KUV/AR project on Ambisonics and its collaborators. The event is followed by the opening of the spatial installation Ambisonics Lounge at 17.30 (also at the Schools of Visual Arts – The Royal Danish Academy of Fine Arts).
In the forum, Jenny Graf Sheppard presents the KUV project framework and the work being done thus far which includes building the space, theoretical inquiries, and immersive sound experiments within the new space. She relates the project to her broader research within her PhD, which contains an emphasis on collaborative work. In that spirit, collaborators Stephen McEvoy and Victoria Keddie discuss their roles in the project and how it connects to their own teaching and/or ongoing artistic research.
The Sonic Orientations project deals with Ambisonics and its implications for the listening subject in sound, VR and other Media Art formats. By exploring this immersive sound technology and associated practices from a theoretical perspective, the aim is to sound out new perspectives on subjectivity, agency and narrative. The project activity includes Sonic Orientations Ambisonics Research (SOAR) group activity, teaching, public talks and exhibitions that support international dialogue and establish the space as a site for research on immersive sound in Media Art.
The Ambisonics format evades our conventional notions of space, physics and directionality. It has the potential to upend subject-object relations, offering a completely new way of entering into time-based narrative in Media. The technology and physics that are behind Ambisonics subverts conventional notions of a sound source, in that the multiple speakers involved interact in ways, and in that interaction, the illusion of spatial sound is created. Therefore it is a dynamic between sound fields that produces a sense of sound, directionality, of sounds of space. For this reason, the study of Ambisonics is a ripe area for exploring themes of New Materialist intra-action and entangled agencies.
Ambisonic Nights #1 17.30-19.00
The Royal Danish Academy of Fine Arts, Kongens Nytorv 1, Entrance E, at the bottom of the Italian Stairs
This is an open-house event inaugurating the newly installed Ambisonics chamber at the Laboratory for Sound.
The Ambisonics chamber is a space for experiencing 3D sound. Audience members are invited to experience excerpts from spatial sound works created by the Ambisonics Research group.
Ambisonics chamber program:
5:30 Introduction
5:40 Performance by Students from visiting researcher Zorka Wollny's vocal workshop (location: stairwell at Entrance E)
6:00 Excerpts of 4 compositions and sound experiments in the Ambisonics Space (location: Entrance E, up to first floor and follow signs to Ambisonics chamber)
Compositions will run on a loop until 7:00 pm.
Audience members will be let in in groups of 10 to listen for the 15 minute loop in Ambisonics chamber.
Snacks and drinks provided.
The project Sonic Orientations is funded through a KUV grant for artistic research from the Danish Ministry of Culture and this event is further supported by The International Center for Knowledge in the Arts.